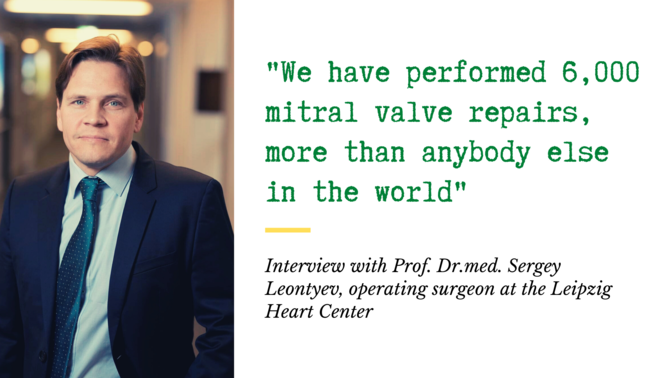 "Second opinion" of a German heart surgeon on why patients choose Leipzig Heart Center
09/12/2020 09:12
Prof. Dr. med. Sergey Leontyev, medical director of the Helios private clinic in Leipzig and operating surgeon at the Leipzig Heart Center, one of the most recognized cardiac surgery hospitals in Germany, talks about minimally invasive heart surgery techniques that eliminate the need for open-heart surgery, clarifies crucial criteria for choosing a hospital for cardiovascular disease treatment, and explains what drives down the risks of recurrence in cardiac patients.
Forbes has named the Leipzig Heart Center the best cardiac surgery hospital in Germany in 2012-2017, and ever since the Center has been holding its leading position. Every year your hospital and its physicians have been listed among the best institutions and specialists in Germany. How can this be possible? Can you share your insights?
Heart Center Leipzig is a pioneering heart and cardiac surgery hospital, both in Germany and in Europe. It has become an intellectual hub in three main cardiovascular areas: cardiology, cardiac surgery and cardiac electrophysiology. Thus, we can use and apply state-of-the-art technologies and approaches to treat a variety of diseases.
First of all, the hospital is known for its minimally invasive cardiac procedures. Some of them, e. g. minimally invasive mitral valve repair, were developed at our center and have become very popular among heart surgeons. We have performed 6,000 mitral valve repairs, more than anybody else in the world. This procedure is performed through a small incision on the right side of the chest, without cutting the breastbone. This decreases any negative impacts of the surgery on the patient and improves the quality of life during the post-operative period. Moreover, in most cases we succeed at preserving the patient's mitral valve and avoiding valve replacement, which is especially important for younger patients. However, when it comes to some groups of patients, we often perform aortic valve reconstruction procedures.
We have performed 6,000 mitral valve repairs, more than anybody else in the world.
What technologies and methods were developed at the Center? How do you perform interventions using these methods?
During the last 10 years medical practitioners in the field of cardiac surgery and cardiology have widely accepted endovascular methods. One of them is TAVI (Transcatheter Aortic Valve Implantation).
For the time being, transcatheter aortic valve surgery is one of the most promising and fast-developing directions in cardiac surgery, and the very first TAVI procedure in Europe was performed at the Leipzig Heart Center. We paved the way to a broad implementation of TAVI in clinical practice. Now, cardiac surgeons in Europe, and in Germany in particular, choose this method when treating high-risk patients with severe aortic valve stenosis. This procedure attracts a lot of interest from the medical community, and the range of indications continues to grow.
Whereas in the past TAVI was indicated in most cases for patients over 80 years old, i. e. those in highest risk group, now European Society of Cardiology and European Association for Cardio-Thoracic Surgery recommend it for moderate-risk patients or patients that cannot have an open-heart surgery done because of comorbidities
You perform more than 1,000 TAVI procedures per year, i. e. 2 to 3 times more than most other European and Russian hospitals. Could you explain this procedure?
TAVI is a heart surgery, which is performed without chest incision. A surgeon makes an injection in the inguinal region (groin) under local anesthesia, and then inserts special tools that help place a cardiac valve. TAVI minimizes any negative surgical impacts, because it doesn't rely on general anesthesia and/or incision. A patient can even talk during the procedure. This method allows patients to walk on their own within the inpatient facility as early as the next day, and usually they are ready to go home in 5 to 7 days.
How to choose the right center or clinic for treating a heart disease?
Can a cardiac patient choose this or that surgery/intervention? For example, TAVI instead of an open-heart surgery.
Without any doubt, the modern European medicine gives patients this choice. We should take into account that our patients are well informed of the options with the help of the Internet and mass media. Therefore, when they ask questions and we have to give them relevant answers. This is where a good doctor-patient relationship and efficient communications play a vital role. Patients should be able to communicate their preferences, and physicians should be able to explain treatment options in detail, so that we could make a decision together.
It is true that many young patients opt for TAVI, instead of an open-heart surgery. However, as I have already pointed out, usually this method is recommended for high-risk, and sometimes moderate-risk, patients. As we talk to a patient, we explain that TAVI has been introduced approximately 15 years ago, and based on the available data on its long term outcomes, we cannot predict what may happen to the valve after 10 years from the day of the procedure. Thus, we recommend young patients to choose a more traditional type of minimally invasive surgery that requires no more than a small incision.
Is it true that 90% of all cardiac surgeries, including minimally invasive, are common and standardized?
Yes, most of them have been standardized. At the Leipzig Heart Center all common procedures follow standard protocols and, given their number, we consider them to be common.
Would it be fair to say that medical equipment is a key to success?
Any new method requires reliable high-performance equipment. We implement the most up-to-date heart diagnostics and imaging methods, such as echocardiography, MRI, and CT . This allow us to visualize the structure and evaluate the condition of the heart as accurately as possible. It would be unfair to say that your choice of equipment leads to a guaranteed success. What really counts is the medical expertise and skills of individual physicians, as well as the teamwork of all medical personnel.
You have the largest cardiac electrophysiology laboratory in Europe. Many patients are worried about the high risk of recurrence after ablation. Are there any ways to reduce this risk?
The recurrence rate after ablation in patients with atrial fibrillation is 20-30%. To reduce the risk, every patient should see a doctor as soon as possible, start a treatment program early, and choose the right cardiac center. Our cardiac electrophysiology department is one of the largest in Europe. We have developed risk minimization guidelines that call for 3D-imaging of heart chambers, coronary arteries assessment, and other diagnostic procedures. We choose the best ablation method for each case based on diagnostics' results.
It is true that the average recurrence rate is 20-30%. It is important to understand that the outcome depends on how long a patient has been experiencing arrhythmia, the size of the chambers of the heart and comorbidities. The sooner we start with the right treatment and perform an ablation, the higher are the chances for successful recovery, and the lower is the risk of recurrence. That is why we recommend all patients to chooses the right heart clinic as soon as possible and commit to a medical intervention.
How do you choose the right cardiac surgery center?
First, I would suggest checking the number of surgeries similar to yours performed every year. If it exceeds 200 per year, then, surely, the medical staff has proper expertise in diagnostics, surgery and treatment of complications, if necessary. It would not be wise to choose a hospital, where they do not perform such procedures often enough.
For example, we perform 6-8 TAVI procedures per day, as well as more than 2,000 ablations and more than 1,500 pacemaker implantations per year. These numbers reliably confirm the extensive experience of our medical staff.
We perform 6-8 TAVI procedures per day, as well as more than 2,000 ablations and more than 1,500 pacemaker implantations per year. These numbers reliably confirm the extensive experience of our medical staff.
Heart team for each patient
How do you work with the international patients? Can they contact you after discharge?
If patient or their attending physician at their home country have any questions during the post-surgical period, we are always available to answer them. After discharge each patient stays in touch with our team. I always maintain contact with the patients who have already have come back to their home countries. Many of my patients are also treated by my colleagues in Russia, who can always contact us, both on a scheduled basis and in an emergency.
Lately, even in Russia, patients have been hearing more and more about interdisciplinary approach. How do you interpret this concept?
You cannot be a good specialist in all medical fields at once. We can offer a proper treatment only when specialists from several areas of medicine assess a patient's medical history as a team.
All cardiac surgeries are managed by a Heart Team, consisting of a cardiologist, an anesthesiologist, an imaging specialist and a GP. A Heart Team makes medical decisions only after a thorough assessment of patient's condition and diagnostics results. This is what the interdisciplinary approach, as we understand it, is all about.
Recently we had a challenging heart vessel case. Initially we planned a coronary artery bypass grafting, but during the diagnostic process it turned out that the patient had a serious vascular problem in lower extremities, lung problems, and colon cancer. We had an interdisciplinary conference that, besides a cardiologist and a cardiac surgeon, was attended by a gastroenterologist and a GP. Together we decided to perform an endovascular procedure, i. e. coronary intervention, and to avoid major surgery. This decision would be impossible to make without interdisciplinary approach.
How did this help your patient?
Rejecting open-heart surgery and selecting angioplasty instead minimized the negative impact of our intervention and allowed our patient to proceed with cancer treatment as soon as possible.
When do patients typically need a second opinion from a German cardiologist and cardiac surgeon?
First of all, when they doubt the diagnosis and the proposed treatment option. I think that the modern diagnostic and imaging methods, both in Russia and Germany, enable comprehensive screening of patients with heart problems. Nevertheless, we still need to not only diagnose a disease, but also to select a treatment, based on the results.
Usually I recommend a second opinion procedure to young patients with valve pathology and acute coronary lesions. There are only few hospitals in Germany and Russia that offer reconstructive surgery for such patients. Valve reconstruction surgery preserves a patient's valve and does not require blood thinners, thus improving the long-term outcomes. We often receive requests from patients who were denied mitral valve reconstruction repeatedly. In most cases, our Heart Center is able to help.
---
Do you need more information about cardicac surgeries at Leipzig Heart Center or do you want to schedule your cardiac surgery?
We will gladly advise you!