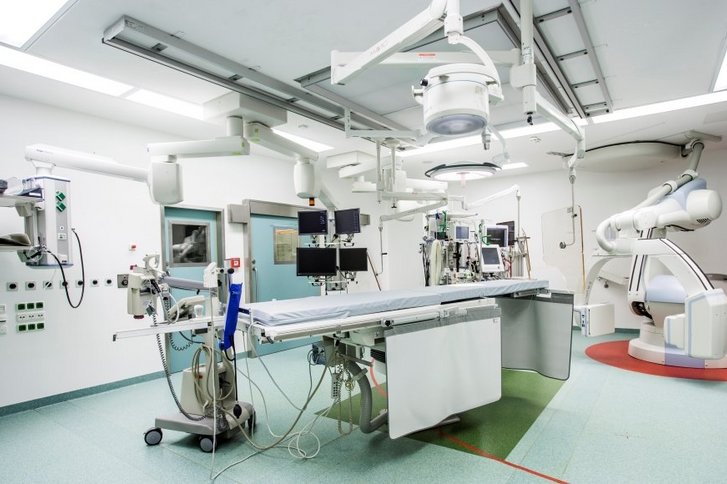 Transcatheter valve surgery (TAVI/MitraClip)
17/11/2020 11:11
During these procedures, heart specialists replace or repair damaged heart valves with catheters.
During transcatheter valve surgery heart valves are replaced or repaired with a catheter, that is usually inserted through the inguinal vessels and guided into the heart. These procedures allow us to treat patients who are high risk for an open chest surgery.
Transcatheter aortic valve implantation (TAVI) and the transcatheter mitral valve reconstruction (MitraClip) are performed at the Heart Center Leipzig on a regular basis.
Diagnostics, treatment and aftercare are carried out by a special Heart Team, which includes a heart surgeon, a cardiologist and an anesthesiologist. Treatment takes place in two state-of-the-art, specially equipped hybrid operating theatres, that combine an operating theatre and a cardiac catheter laboratory.
TAVI procedure
TAVI is a procedure for aortic valve stenosis. During TAVI a biological aortic valve, which is attached to a balloon catheter tip, is guided into the heart, inflated and then positioned in the aortic valve. Advantage: There's no need to open the chest and use the heart-lung machine. 
In most cases the doctors insert an implant in the aortic valve through the blood vessels of the groin. However if the blood vessels of the groin aren't suitable for valve implantation, the catheter can also be inserted through a small incision in the left side of the chest
…provides more than 800 TAVI surgeries every year, which is one of the greatest surgery numbers in Europe, what makes the doctors at the Center internationally recognized experts.
More information about Heart Center Leipzig
The MitraClip surgery
MitraClip surgery is a procedure, which is used to treat mitral valve insufficiency. In this procedure, the doctors guide a catheter through the right groin and attach the anterior and posterior mitral valve leaflets together, thus treating the leakage.
In many cases, complete elimination of the leak is impossible. For such patients this therapy is still especially suitable for treating symptoms. More than 140 patients are treated with this procedure every year at the Heart Center Leipzig.
Related stories:
---
Do you need more information about cardicac procedures at Helios hospitals or do you want to schedule your cardiac surgery?
We will gladly advise you!