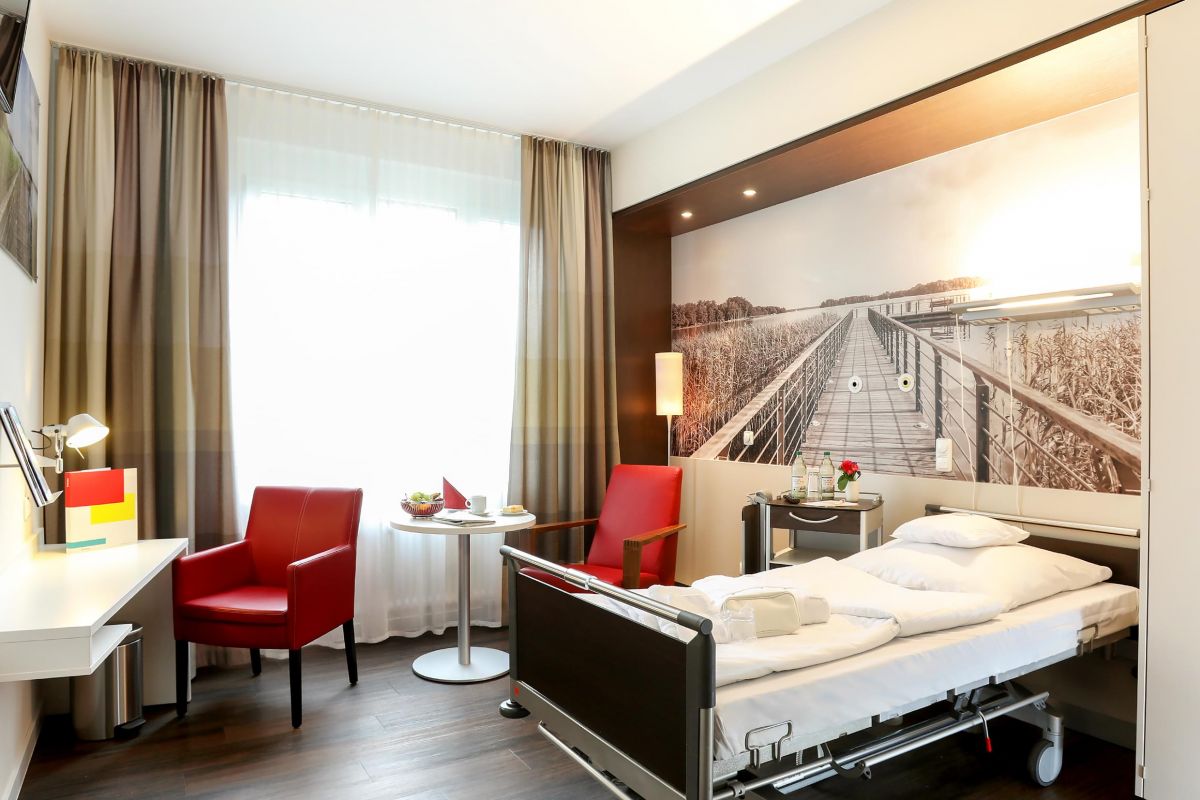 Preparing for your hospital stay
28/10/2020 21:10
Each journey begins with the first step
The success of the surgery and the healing process is largely up to you. With proper preparation and proper precautions, you can significantly reduce the risks involved and thus contribute to a faster recovery.
Possible preliminary examinations
Before the surgery, a preliminary interview with an anesthesiologist is conducted, which is necessary to assess individual operational risk. In addition, before the surgery you may need some additional examinations.
Visit the dentist
Visit the dentist in advance before the planned surgery. Patients with inflammatory processes in the root area and decayed teeth are contraindicated to the installation or replacement of an artificial joint. Otherwise, you can not exclude the risk of pathogens through the blood in the area of the surgery. Try to make an appointment with the dentist at least three weeks before the surgery.
Pay attention to possible damage to the skin
The installation of the prosthesis is contraindicated in patients with open injuries. Even superficial injuries must heal completely before the planned surgery.
If you have any doubts, please contact us in time to discuss the next steps.
Foot care
We recommend a medical pedicure before surgery.
Medicines
When you are admitted to the hospital, make a full list of medications you are taking with detailed information about the dosage. Be sure to include all over-the-counter medications you are taking.
The medicines themselves must be taken to the hospital in their original packaging (barcode box). This will make it easier for us to take them into account and possibly to order them.
Be sure to discuss with your home doctor, orthopedist or other specialist whether you should stop taking certain medicines before the upcoming surgery. These may be drugs such as phenprocumone (Markumar/Marcumar®, Falithrom®), some rheumatism drugs, or painkillers containing acetylsalicylic acid (such as Aspirin®). This may also include phytopharmaceuticals such as ginseng, ginkgo or St. John's wort.
Individual medical devices
Also think about all the medical devices (insulin pump, etc.) that you use. If you suffer from sleep apnea and need a CPAP device, make sure you take it with you to the hospital.
List of things you need in the clinic
Clothing & Shoes
Sports suit or training pants for running with wide bottom
Pajamas or nightgown
Stockings
Lingerie
Closed shoes without a heel with a velcro clasp and non-slip sole (new shoes must be distributed in advance!).
For the bathroom
Hygiene items (e.g. toothbrush, toothpaste, soap, shaving set, hairbrush, hair dryer, handkerchiefs)
Bathrobe
Towels
Medicine and documents
Medicines in original packaging and a list of drugs currently being taken.
Health insurance policy
ID card or passport
Referral for treatment (if it has not already been submitted)
In case you have: "patient ID", for example, an allergic passport or a passport of a patient receiving an anticoagulant.
All medical equipment used (e.g. CPAP for sleep apnea)
Pension insurance number and contact details of the contact person in the respective paying organization: to apply for further rehabilitation
If necessary - the results of additional examinations.
Other necessary things
Glasses or reading glasses, hearing aids
Cell phone, laptop, tablet, e-book - if available.
Books and magazines
Notebook with important phone numbers of relatives and friends.
Used aids (such as crutches, shoe horn with a long handle).
Prohibited items
Large valuables and jewelry
Big amount cash
Big amount of food
Potted plants
If you are not planning to stay in one of our comfortable ward, don't take too many things with you, as the storage space is limited.
If you become ill before surgery
If you become ill or notice signs of infection a week before surgery, contact the clinic that provides treatment immediately. This will reduce the risk of complications during the surgery and anesthesia. Tell the clinic staff if you have had the following diseases or symptoms in the last 2 weeks:
Diarrhea and vomiting
Influenza or flu-like symptoms
Respiratory System Disease
Inflammation (e.g. in the oral cavity)
Any phenomena that you personally consider as signs of infection.
Smoking
If you smoke, you should reduce the number of cigarettes you smoke at least four weeks before surgery, and if possible, quit smoking altogether. Tobacco and cigarette use significantly increases the risk of infection after surgery and makes recovery difficult.
Meals
We recommend eating a variety of meals, with lots of fruits and vegetables, and in normal daily life, and especially - before surgery. It is necessary to drink 1.5 to 2 liters of liquid daily, unless your doctor gave other recommendations. This approach improves digestion.
Overweight puts pressure on the joints, and obesity significantly increases the risk of infection. Try to normalize your body weight. The appropriate measures should be discussed with your doctor.
---
Do you need more information about Helios Hospitals or do you want to schedule your treatment?
We will gladly advise you!