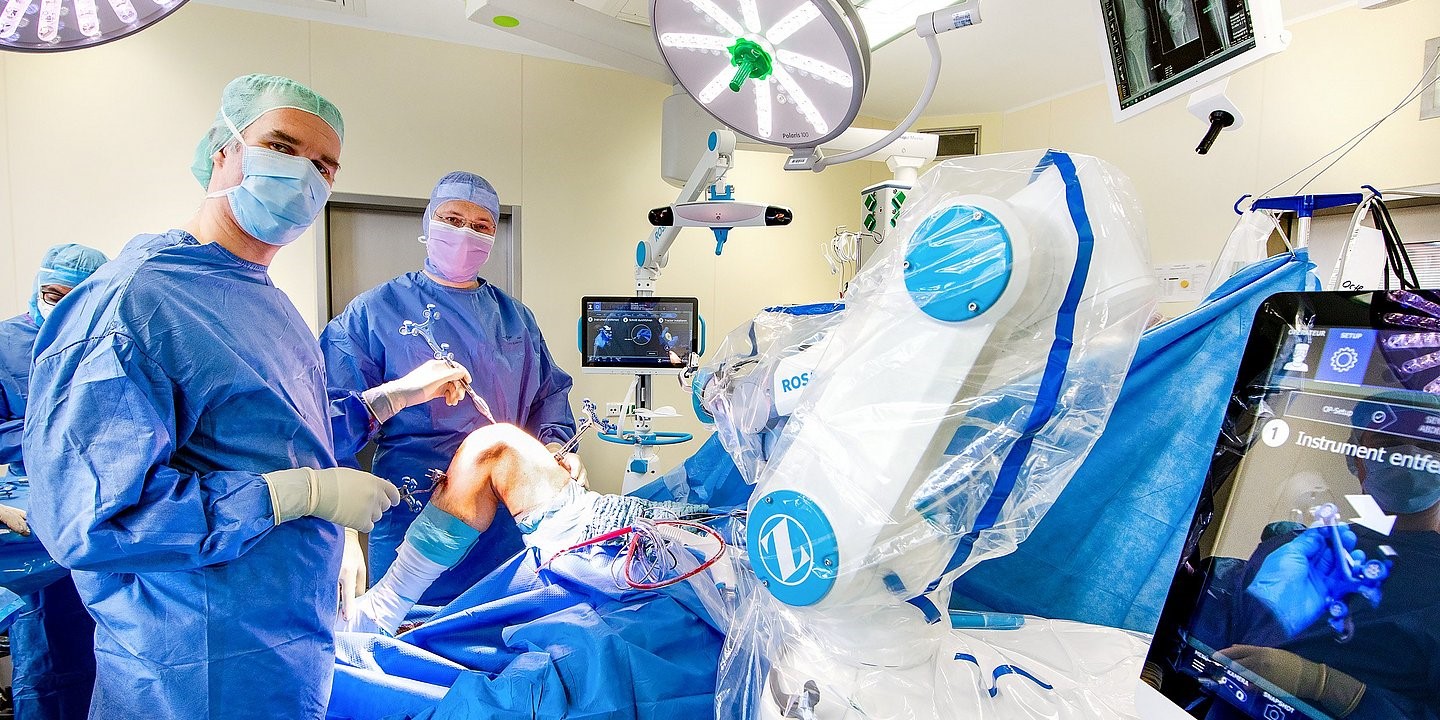 Robot-Assisted Knee Joint Surgery Using Rosa Robot
15/10/2021 08:10
A new computerised robot-assisted system is now used in knee joint surgical interventions by the orthopaedic team at Helios Hospital Berlin-Buch. It optimizes the knee joint prosthesis adaptation and ensures its optimal fit. It ensures increased patient satisfaction with an artificial joint.
With surgical robot to an artificial knee joint
From this moment, the orthopaedic team headed by Prof. Kendoff relies on assistance of the so-called semiactive ROSA© robot in the operating room. Semiactive robots are considered to be the most safe form of robot technologies. Here, practical experience of surgeons is combined with the precision of robots. The Professor Daniel Kendoff, MUDr., Head of the Orthopaedics Department, says, "Our goal is to make a patient forget that he has an artificial joint. Robot-assisted surgery with Rosa system is a new milestone for us, orthopaedic surgeons, to achieve this goal".
"We rely on digital solutions to ensure the best possible medical care for our patients. Also, we are one of the medical innovators in this field, as nowadays, only 15 hospitals in Germany provide robot-assisted surgical interventions," says the General Manager of Helios Hospital Berlin Buch.
How is a robot-assisted intervention performed?
First, individual knee joint measurements are performed using X-ray images. Then, surgeons prepare a digital plan of the surgical intervention using computers. In the operating room, the so-called trackers are attached to the knee joint of a patient; a navigation unit recognizes them and sends data on spatial position of the knee joint and planned bone incisions to the robot.
Bone tissue processing instruments are attached to the robot with a single manipulator mechanism. A surgeon manages the cutter manually and ensures continuous monitoring of the instrument. The robot determines the plane and the boundaries of the incision with pinpoint precision. It prevents incorrect incision, Nerves, vessels and ligaments are better protected.
At the end of the knee joint intervention, the planned prosthesis location and appropriate joint stability are checked again on an individual basis. At this step, the system control function is of use. Digital documentation makes the intervention completely reproducible.
A robot and a surgeon as a team: precision and low error liability
Prof. Kendoff is convinced of orthopaedic Robotics:
"Due to robot assistance, the artificial knee joint is located with pinpoint precision, a new Rosa system ensures necessary straight axle of the leg in the knee joint and correct rotation of the prosthetic components."
Scientific research demonstrated high reproducibility and very low error liability. Multiple benefits have been already proved, such as a very low risk of recurrent interventions and more rapid recovery, as well as insignificant postoperative pain symptoms.
Knee joint surgical interventions are considered to be sophisticated, as the knee joint is an extremely complex system involving bones, nerves, ligaments and tendons. According to the research, approximately 25 per cent of patients, having undergone traditional knee joint interventions, are not completely satisfied with the prosthesis. They complain primarily of restricted movements and pain. In future, incidence of such side effects should be decreased, as artificial intellect-assisted operations ensure optimal alignment of all knee joint components.
---
Do you need more information about Helios Hospitals or do you want to schedule your treatment?