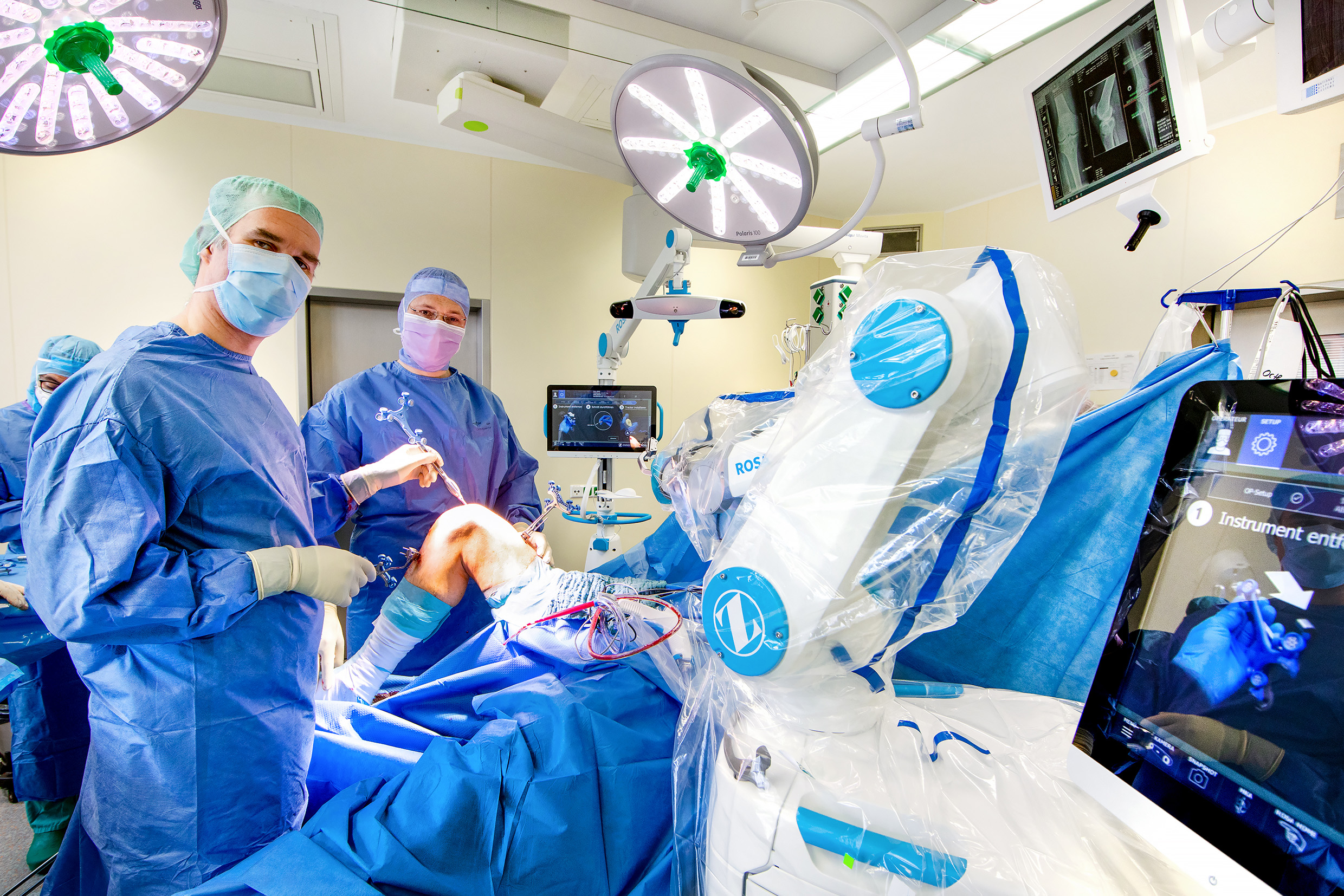 Branch of the renowned ENDO-Klinik Hamburg opens at Helios Hospital Berlin-Buch
01/07/2022 06:07
As of June 1, Helios Hospital Berlin-Buch will be a partner hospital of Europe's largest specialist clinic for endoprosthetics, sports orthopedics and spine surgery - ENDO-Klinik Hamburg. After two years of preparation, endoprosthetic care at the highest medical level is now available to all patients in the region.
A prosthesis replacement places high demands on the surgeon, but also on the equipment of a hospital. Endoprosthetics of the hip and knee is a treatment focus of orthopedics at Helios Hospital Berlin-Buch. Due to the many years of experience of Prof. Dr. med. Daniel Kendoff, Chief Physician Center for Orthopedics and Trauma Surgery at the Helios Hospital Berlin-Buch, the orthopedics team is a national and international reference center in primary and revision arthroplasty, especially for infections and single-stage replacement. The change of infected prostheses in the "one-stage" procedure is a very special procedure that only very few clinics in Germany use and that Prof. Kendoff perfected during his many years as senior physician at the ENDO-Klinik Hamburg.
Helios ENDO Hospital Berlin
In the last two years, the organizational and structural prerequisites have now been created at the Helios Hospital Berlin-Buch in order to consistently implement the quality standards of the ENDO-Klinik Hamburg here as well.
I am particularly pleased to now be able to implement the successful concept and medical expertise of ENDO-Klinik Hamburg in Berlin. I am very proud of my experienced and well-coordinated team: we stand for around 2,000 hip and knee endoprosthetic operations a year and the first 150 robot-assisted knee operations have been implemented. We are already among the medical pioneers in this field throughout Germany. Now we are going one step further and will become the ENDO-Klinik Berlin,"
, emphasizes Prof. Kendoff.


Maximum and holistic care on site
With the cooperation now underway, the orthopedics team at Helios Hospital Berlin-Buch aims to set nationwide standards in knee and hip joint replacement. "We are expanding the care landscape in the field of endoprosthetics not only in the Berlin/Brandenburg district, but also beyond regional borders. The concept of treatment from a single source has been consistently implemented by Helios Hospital Berlin-Buch for years," emphasizes Prof. Dr. Sebastian Heumüller, Managing Director at Helios Hospital Berlin-Buch and Regional Managing Director of Helios Region East.
The ENDO-Hospital Berlin focuses on specialized orthopedic treatment. In addition, the patient can be offered the comprehensive treatment often required by the other specialist departments of our clinic as a maximum care provider. This is particularly important for patients who also have several internal diseases. This "interaction under one roof" is only available at maximum care clinics such as Helios Hospital Berlin-Buch."
adds Prof. Dr. med. Henning T. Baberg, Medical Director at Helios Hospital Berlin-Buch.


Helios ENDO-Klinik Hamburg
The concept of the ENDO-Klinik Hamburg is based on intensive patient care, with clearly defined criteria to be met at every step. Over 8,000 joint surgery procedures are performed there every year - the hospital has earned a global reputation since it was founded in 1976. "This reputation is based on standardized processes that are also successfully applied in Berlin-Buch. From primary care of an artificial joint to complicated replacement surgery, all procedures can be offered using high-quality implants and state-of-the-art surgical techniques," says Dr. Thorsten Gehrke, Medical Director of Helios ENDO-Klinik Hamburg.
State-of-the-art surgical technology
Since May 2021, Prof. Kendoff's orthopedic team has relied on the support of a so-called semi-active robot called ROSA© in the operating room. The semi-active robots are considered the safest form in robotics. This is where the practical experience of the surgeons meets the precision of the robots. "It optimizes the fitting of the joint prosthesis and ensures its perfect fit. The patients' satisfaction with their artificial joint is thus increased once again," explains Prof. Kendoff.
Read more:
---
Do you need more information about Helios Hospitals or do you want to schedule your treatment?