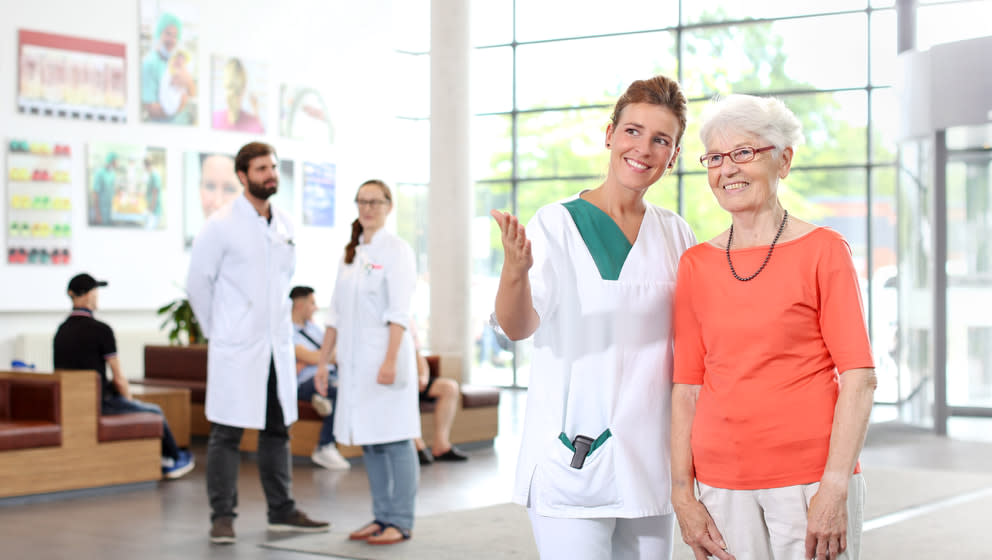 How is hospital treatment going
28/10/2020 21:10
Perfect treatment course
This section describes the ideal course of treatment in the hospital in an orthopaedic department. However, some changes are always possible - it depends on the hospital and the patient's health condition.
After knee or hip replacement surgery, you usually stay in the clinic for another six days. During this time, you will gradually restore your independent life skills - of course, with the support of the hospital staff.
Doctor's rounds
Every day usually in the morning, a doctor and one of the nursing staff visit each patient. During the rounds, you can ask any questions. You can also write them down in advance.
Diagnostics
Only a few examinations remain after the surgery. In addition to the laboratory tests, you will receive final X-rays of your knee.
Physiotherapy
It's very important to start exercising a new joint as soon as possible. Clinical studies have shown that this contributes to a faster recovery of the physical shape. A physical therapist visits you every day. He works with you to plan your daily activities and then accompanies you during the training.
Body Care and Mobility
Our nurses and caregivers help you get back on your feet as quickly as possible. After the surgery, you can count on them, if you need to wash or walk in the ward and department, for example, to the toilet. By the time you are discharged, you will be able to do most of the work yourself. This is also very important, including for subsequent treatment in the rehabilitation clinic.
Pain management
After the surgery, you may feel pain. Therefore, the doctors will prescribe you an individual pain management. Every day you will describe the intensity of pain, and the doctor will take appropriate measures.
Wound treatment
After the surgery, daily checks of the surgical wound are performed. For the quickest healing, the most modern dressing techniques are used.
Thrombosis prevention
After the surgery the risk of blood clots – thrombosis – might increases. The reason for this is the lack of movement. When the legs are stationary, blood flow slows down, which can lead to blood stagnation and sticking thrombocytes. This is how a blood clot or otherwise a clot is formed. Thrombus can narrow the lumen or even completely clog the blood vessels. To prevent this from happening, you will be given daily injections. Since this drug will be needed for a long time, you will be shown how to give yourself injections by yourself.
On the discharge day
On the last day you will receive all the documents. The attending physician and nurse will talk to you again. During this conversation, you will be able to discuss rehabilitation options.
---
Do you need more information about Helios Hospitals or do you want to schedule your treatment?