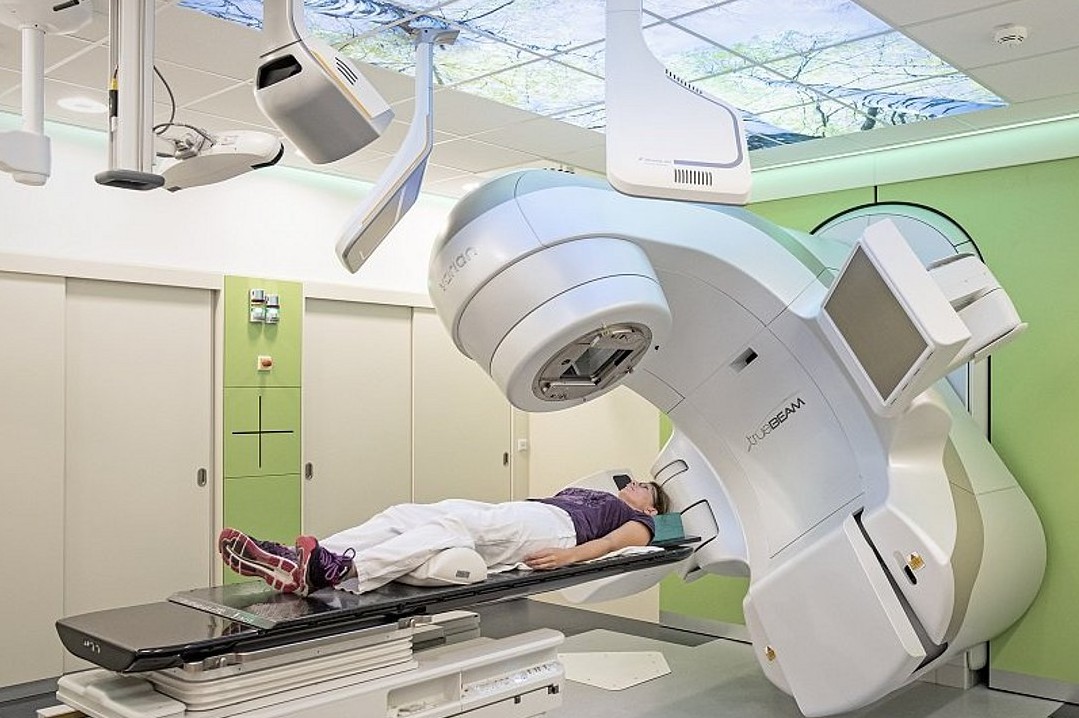 TrueBeam® linear accelerator at Helios Hospital Krefeld
07/04/2022 10:04
New linear accelerator: Highly precise, convenient and fast
A new linear accelerator is in use at the Clinic for Radiotherapy and Radiological Oncology at Helios Klinikum Krefeld.
The modern large-scale 'TrueBeam'® unit shortens the duration of irradiation while offering maximum precision. Patients with lung or brain tumors in particular benefit from the technical advancements, breath-synchronized X-ray imaging and millimeter-precise imaging.
The room is spacious and bright, with the new linear accelerator in the center, which fills the space without smothering it. Everything is open and friendly. It seems as if there is a large window on the ceiling of the room, directly above the linear accelerator's patient couch, which offers a view of green trees. "This has a calming effect and makes therapy easier for our oncology patients. With this goal in mind, we have comprehensively modernized not only the new technology but also our otherwise windowless treatment room," explains Dr. Michael Daum-Marzian, head physician of the Radiation Clinic and coordinator of the Helios Oncology Center (HOZ).
A special feature of the 'TrueBeam'® is the high dose rate compared to conventional irradiation techniques. This further development in medical technology enables faster, high-dose irradiation and thus shorter treatment duration, which has an even more precise effect thanks to additional motion controls. This is accompanied by even more targeted protection of the surrounding tissue and organs. "On small monitors directly in front of them, our lung cancer patients, for example, can track their breathing curve during radiation and see how and where they are breathing to positively support the radiation process. Today, radiation is no longer administered during the entire breathing curve, but only in the optimal range. In doing so, the accelerator switches on and off fully automatically," clarifies the radiation physician. "In this way, our patients can now actively participate and thus virtually control their radiation themselves."
The new patient table can be steered in six different spatial directions instead of the previous four. These axes allow the patient to be positioned optimally, without repositioning. The technology has also made significant progress in control imaging, which takes place before and during radiation: "The image quality has increased enormously, is sub-milimeter accurate and thus similar to a diagnostic computer tomography," explains head physician Dr. Daum-Marzian. Special software often makes it possible to irradiate several cancer sites at the same time - a decisive advantage for patients, as treatment can now be carried out in one, rather than several, sessions.
"As an oncology center, it is our aim to ensure that our patients always benefit from these technical advances, which gently contribute to precision and safety," summarizes the head physician.
Read more:
---

Do you need more information about Helios Hospitals or do you want to schedule your treatment?