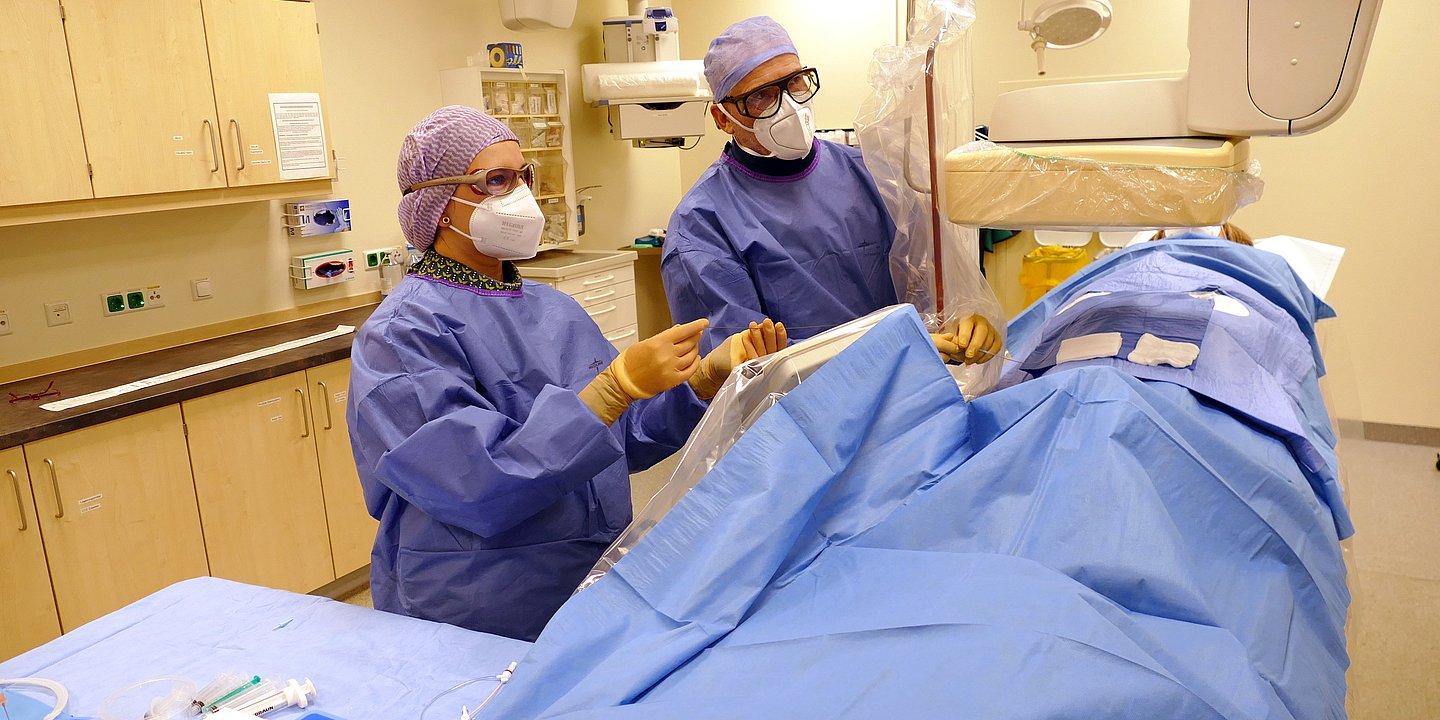 Transarterial Periarticular Embolization (TAPE)
24/05/2022 06:05
New outlook for pain patients through novel intervention at the joint
For sufferers of joint or tendon pain for whom conservative and surgical therapies no longer achieve a satisfactory effect, there is now the option of so-called transarterial periarticular embolization (TAPE) at the Helios Hospital Bad Saarow. In this new minimally invasive therapy procedure, microparticles are directed to the painful joint or tendon site via a catheter through the groin, resulting in immediate and usually longer-lasting pain relief.
Chronic incorrect stresses and inflammatory stimuli cause pathological vessels to develop at the capillary level. Pathological nerve endings sprouting in joint capsules and tendon sheaths then transmit strong pain stimuli to the brain. These nerves react poorly or not at all to pain medication, which is why relief can often only be achieved to a limited extent with medication.
How does the therapy work?
In a procedure known as transarterial periarticular joint embolization (TAPE), blood vessels are selectively occluded by the introduction of vascular blocking substances or particles. Under local anesthesia, a thin catheter with a diameter of less than one millimeter is passed through the inguinal artery to the affected joint.
"With the help of the targeted interruption of the microcirculation by microparticles with a size of less than 150 micrometers, we can reduce the arterial over-supply of the diseased nerves, synovial membranes or tendons with TAPE. The positive effect is a significant pain relief, because by normalizing the blood supply we can reduce the stimulability of the hypersensitive nerves and reduce the influx of messenger substances that maintain the inflammation."
explains Dr. med. Dipl.-Phys. Jan Petersein, head physician of the Institute of Radiology at the Helios Klinikum Bad Saarow.
When can TAPE be used?
Chronic pain in active osteoarthritis (shoulder, knee, ankle, finger joints)
Painful frozen shoulder ("frozen shoulder")
Tendon insertion pain (e.g. tennis elbow, patellar tendinitis, plantar fasciitis, inflammation of heel spurs)
Lack of response to conservative therapy (physiotherapy, infiltration treatments, pain medication)
Impossibility of surgical therapy (increased risk of surgery, atypical symptoms)
Who is eligible for TAPE?
The indication for joint embolization is made individually and depends on previous therapy, pain development and the existing vascular status.


Read more:
---
Do you need more information about Helios Hospitals or do you want to schedule your treatment?
We will gladly advise you!