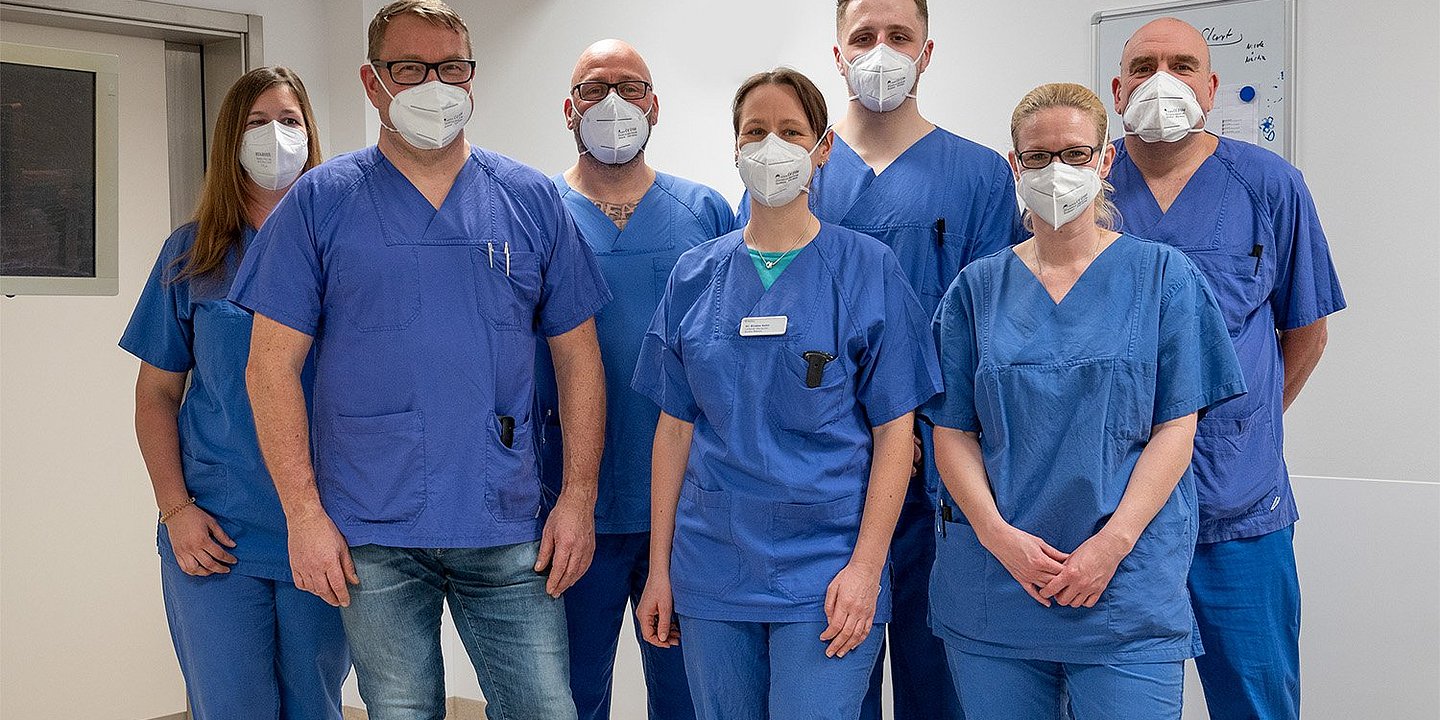 New endoscopic procedure at Helios Duisburg-Homberg
11/05/2022 06:05
New endoscopic procedure at Helios Duisburg-Homberg - Removing tumors in the stomach wall without surgery
Until now, surgery was almost the only alternative for tumors located in the wall of the stomach or duodenum. But now a new endoscopic procedure is available. It makes it possible not only to detect unclear findings or tumors located deep in the stomach wall during a gastroscopy, but also to remove them safely and completely. The Helios Hospital Duisburg-Homberg is the first hospital in Duisburg to use the new procedure.
Proven technology
"The technology itself is already proven, and we have used it many times with success to ablate even complicated polyps in the colon," explains Uwe Henkelüdecke, chief physician of internal medicine, gastroenterology, diabetology and oncology at the Helios Hospital Duisburg-Homberg. But until now, the instrument used to perform such endoscopic procedures was too large to be used in the stomach or duodenum. Now the Tübingen-based medical technology manufacturer has further developed the instrument. "The diameter of the system has been significantly reduced, so we can now insert it through the patient's mouth, just like in a normal gastroscopy. And, also as is usual for gastroscopies, general anesthesia is not usually necessary for this procedure; a sleeping pill is sufficient," Henkelüdecke explains.
How it works
With the help of this procedure, just like its "big brother" in the colon, findings in the stomach and duodenum that have spread deep into the organ wall can be safely and completely removed. Experts refer to this as a "full wall resection". For this purpose, a special cap is placed on the endoscope. A special forceps is used to grasp the findings, which have been marked beforehand, and the tissue is then pulled into the cap. Then, a clip sitting on the outside of the cap is used to "tie off" the retracted tissue below the cap before a loop separates the finding pulled into the cap above the clip. The entire instrumentation, including the findings, is then retrieved from the body. Only the clip, made of body-compatible metal, remains in the body and securely seals the organ wall. As a rule, the clip is excreted after some time - usually unnoticed. After the procedure, the removed tissue is examined by a pathologist to ensure that it has been completely removed.
Certified team
In order to apply this new procedure safely, both the nursing and medical teams of the endoscopy department at the Helios Hospital Duisburg-Homberg underwent further training and certification by the manufacturer at the beginning of the year. "We have successfully performed the first interventions. We are very pleased to be able to offer our patients and the patients of our colleagues in private practice a safe and low-complication alternative to surgery when indicated," Henkelüdecke is pleased to say.



Read more:
---
Do you need more information about Helios Hospitals or do you want to schedule your treatment?