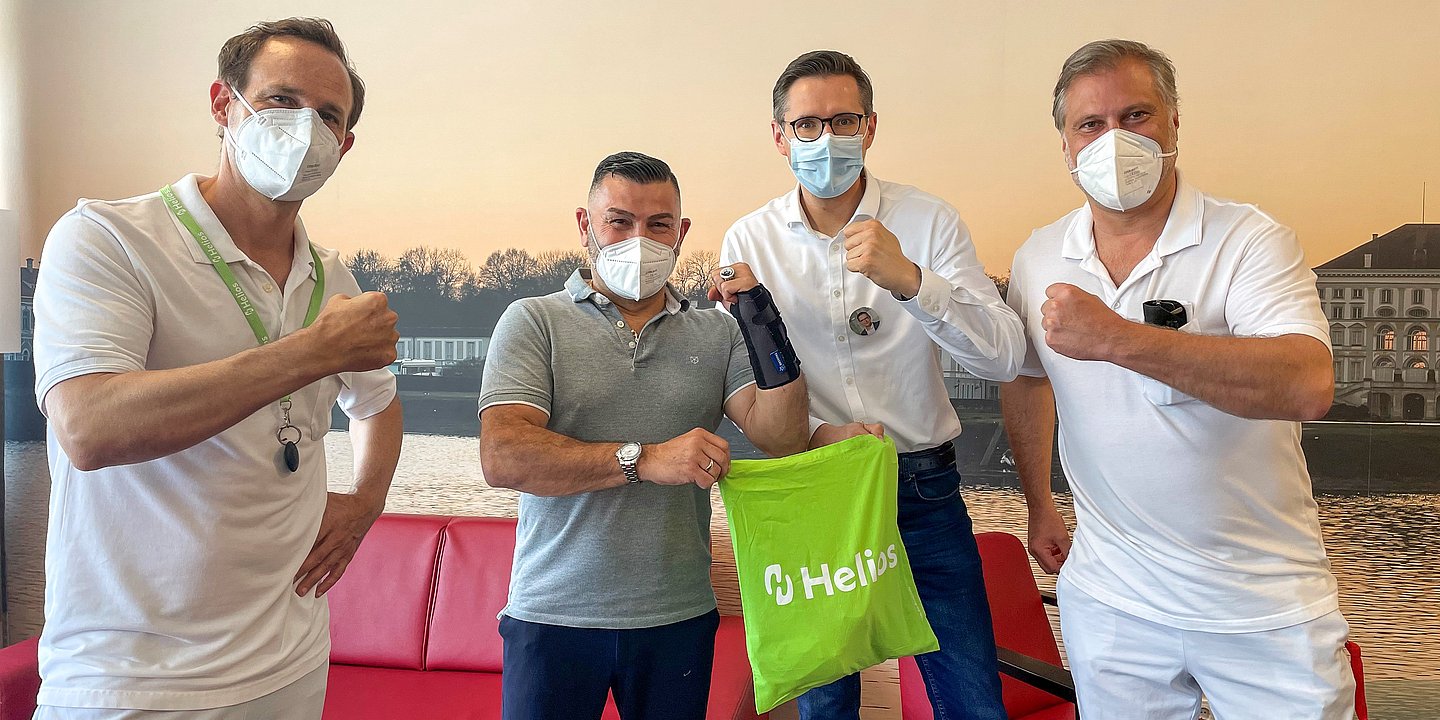 The patient story: After Surgical Intervention: Levent Cukur Has to Take Care of His Wrist
26/01/2022 09:01
This weight bearing has been too much, even for the trained wrists of a former world boxing champion: Levent Cukur suddenly felt pain during a training session with his son Emre, current European champion in super middleweight.
"First I didn't take it seriously and just continued to train. Ultimately, we were just half the way preparing for the important fight," says Cukur, who has been a personal trainer in his LEOs Boxgym Boxing School for several years.
As he continued to experience pain for several days, he consulted Aleksander Manolopulos, Head of the Orthopedics, Trauma Surgery, Hand Surgery and Sports Orthopedics Department in Helios Hospital Munich West.
"In contrast to sham fights, which generally involve slowing down shortly before punching, during training with a pad, the punches are made with full force."
"In particular, hand overturing is associated with a high risk of trauma." This is what happened to Levent Cukur. Comprehensive examination revealed that surgical intervention is necessary. The surgical intervention was performed by Dr. Elias Folkmer, Freelance University Lecturer, Chief Medical Officer of the Hand Surgery Department. "The intervention was successful with no complications," the experienced surgeon clarifies.
Cukur is also very satisfied with his treatment at Pasing Hospital: "The surgery was the right decision, pain is significantly reduced. Many thanks to Aleksander Manolopulos, Elias Folkmer and the whole team," The former professional boxer must now take care of his wrist. "Considering the expected recovery rate, Levent will be in form again in approximately six weeks and will be able to give a powerful blow," says Folkmer, who was recognized as the best hand surgeon by the Focus List for the first time this year.
---
Helios Hospital Munich West is a modern referral medical centre with 412 beds located in the Pasing District and the affiliated hospital of the Ludwig Maximilian University of Munich. The Hospital consists of the Central Emergency Department and 20 other referral departments and provides comprehensive assistance at academic level. Annually, about 24,000 inpatients and 31,000 outpatients rely on the experience and knowledge of about 950 employees. Besides quality medical care and assistance, they particularly appreciate short distances and private family-like setting.
Do you need more information about Helios Hospitals or do you want to schedule your treatment?
We will gladly advise you!