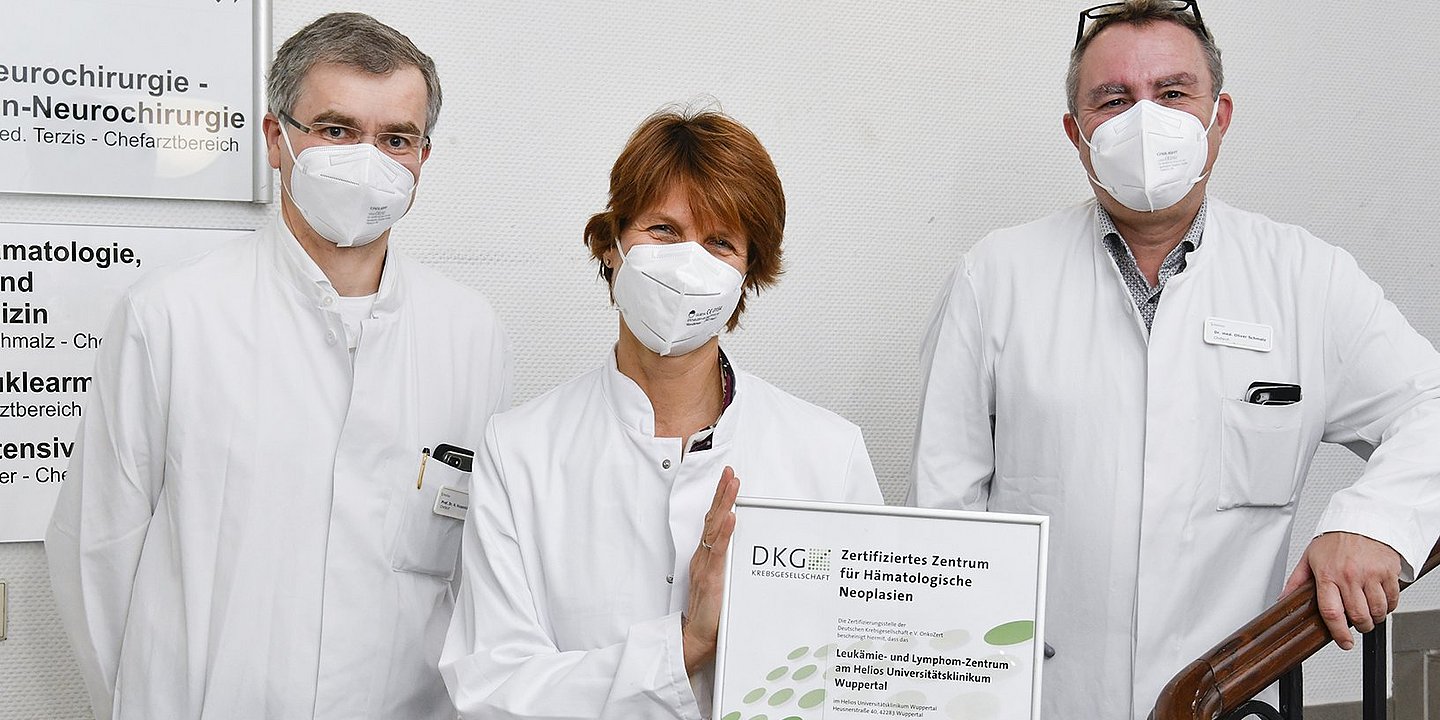 German oncology society recommends Leukemia and Lymphoma Center in Wuppertal
12/04/2022 10:04
Wuppertal University Hospital, part of the Helios hospital chain, offers optimal structures for leukemia and lymphoma treatment, which are the fourth most common type of cancer.
In the recently certified center, all malignant diseases of the blood, lymph nodes and bone marrow are treated. The center works on an interdisciplinary basis in order to be able to offer each patient the best possible therapy on an individual basis and according to the latest scientific findings. Medical treatment and accompanying care are closely intertwined. Highly qualified physicians and specially trained oncology nurses, psychooncologists, physiotherapists, music and art therapists, nutritionists, social counseling staff and colleagues from the Department of Radiation Therapy and Radio-Oncology work together in an interprofessional and interdisciplinary team of experts.
Leukemias and lymphomas
are malignant diseases of the blood, hematopoiesis and lymphatic system. In Europe, approximately 20 out of every 100,000 inhabitants contract a malignant hematological neoplasm every year. Diagnosis and therapy of these diseases are the main focus of the Center for Leukemias and Lymphomas under the umbrella of the Oncology Center Wuppertal.
The interdisciplinary team meets regularly for tumor conferences, where the optimal treatment concept for each individual patient is discussed together, taking into account the patient's age, general condition, concomitant diseases and wishes. External colleagues have the opportunity to present patients in tumor conferences and/or to participate in the conferences.
"We are very pleased that at the Leukemia and Lymphoma Center, the people in the Bergisches Land region have access to the quality certified by the German Cancer Society at the highest level, close to home," saysDr. med. Oliver Schmalz, Head of the Oncology Center and Chief Physician of Hematology at Helios University Hospital Wuppertal.
Correct diagnostics, including molecular markers, are essential for adequate therapy of blood and lymph node cancer. In the special hematology laboratory under the direction of Dr. Silke Schostok, all modern diagnostic procedures are offered. In addition to conventional morphology, special examinations (immunohistochemistry) and molecular pathological analyses are available. At Helios University Hospital Wuppertal, reference pathologist Prof. Dr. Hans Michael Kvasnicka ensures the classification of the assessed lymphomas. The status of reference pathologist in the field of lymphoma pathology is awarded and confirmed by the Competence Network Malignant Lymphomas (KML).
With numerous clinical studies, many patients can be offered access to innovative therapies, and networking with other university hospitals ensures the joint organization of stem cell transplants and adoptive cell therapies.
---
Do you need more information about Helios Hospitals or do you want to schedule your treatment?