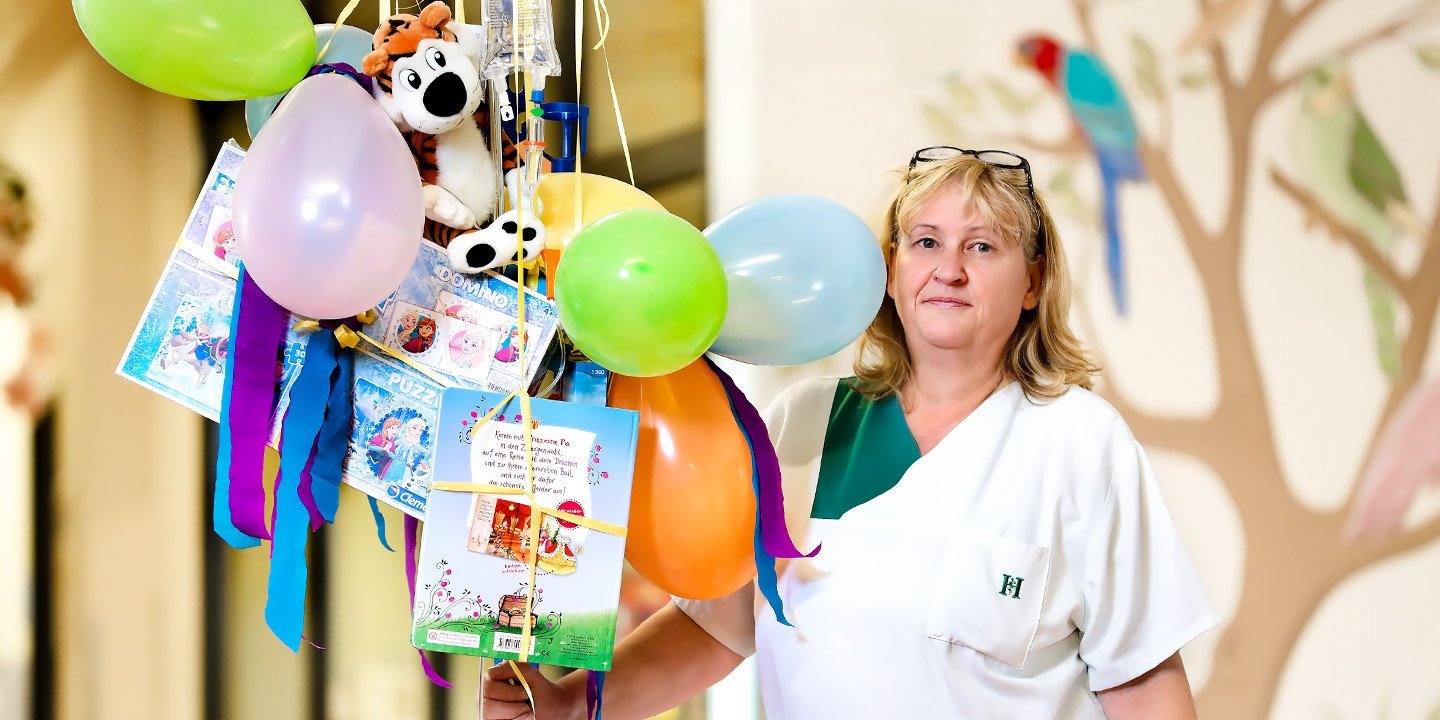 Treating children with cancer at the Helios hospital: check list for parents
28/10/2020 23:10
If your child is treated for cancer
In the Pediatrics Department, professional physicians, nurses and specially trained medical staff treat children and adolescents with cancer and blood diseases. If you have any questions, problems or concerns about treatment, please refer to medical personnel so that they can help you. Your critical remarks is of great importance, because we act exclusively in the interests of children and value the trust of patients. What matters most is the well-being of your child.
After admission, you and your child probably will have to stay in the hospital for a long time. To make it easier for you to navigate in the department, we are giving you a guide on how to organize your treatment.
Rules for visiting your child
During treatment, children and adolescents need attention and support, so it is important for parents to be close to their child as often as possible. The visiting hours are from 8.00 to 20.00 every day with a rest time break from 12.00 to 14.00.
Because of the increased risk of infecting children, only two people are allowed to visit at a time. Please understand that brothers, sisters, and friends of your child are not allowed in the department. They may infect patients with a weakened immune system, because children inevitably come into contact with microbes in kindergarten or school and may become bacteria carriers, even if they don't get sick themselves.
Accomodation of parents in the hospital
During the first week of stay at the department, parents can stay with their children overnight. Children under 7 years can sleep with a mother or a father in the same bed.
Parents of older children are offered free accommodation in the Ronald McDonald's parents' house, located near the hospital. In the evening, parents can easily get home, and in the morning, have a good rest, go back to your child to support him on the long road to recovery.
Meals
Unfortunately, for reasons of hygiene, it's forbidden to use the kitchen of the department. However, you can always use the microwave in the kitchenette of the department and feed the child yourself.
All dishes for basic meals are brought by the service staff. The ward has a large table in the patio, where you can eat with your child and other patients.
The hospital staff also serves accompanying persons, who are accommodated in the hospital or in the house of Ronald McDonald. There is a self-service system for everyone else.
There are two refrigerators in the ward, where you can store food brought with you. Please don't bring too much food and sign the containers with the name of your child. Please check the food regularly and throw out expired food and opened packages, and take all food with you before discharge or break in treatment.
Beverages such as juice, hot and cold water, milk in the fridge, and coffee for visitors are available on the patio.
Contact the patients
You can contact your child until 20.00 every day on the number +49 (030) 94 01-145 31.
If your child wants to put the phone by the bed, contact the on-duty nurse who will give you a phone with a chip card that will charge you for the connection.
For Internet access, contact the nursing staff on duty.
Daily routine
Wake up at 7.00, start of care procedures.
Please remove the wall-mounted bed until 7.30.
From 7.30 medical procedures, such as blood sampling and drug intake.
Then breakfast is served, examinations and therapeutic measures are carried out. At the same time, children go to physiotherapy procedures, school or kindergarten.
At 11.30 a.m., the attending doctor and nurse start to go around the wards and give patients important information, such as test results. At the same time, you can discuss your concerns.
Once a day temperature and heart rate measurements.
Lunch is served at 12:00, followed by a two-hour rest time.
In the afternoon, we offer children a variety of entertainment programs. The actual schedule is available on the bulletin board.
All wards are equipped with a TV.
You can bring a radio, a laptop, a game console and other gaming devices. Please note that the hospital isn't responsible for toys, gaming devices, and valuables.
If your child feels well and isn't on an I.V. drip, you are allowed to take a walk. In any case, please see the nurse on duty.
After 17.30 dinner is served. Depending on the age of the child after 19.00 bedtime routine begins. At 22.00 all patients should already lie in beds.
Morning change of nurses is organized according to the territorial principle: each room is assigned to a certain nurse. You can find out which nurse is responsible for your child on a magnetic board in the hall of the ward.
Consulting on social adaptation
For all questions of social adaptation, you can contact special consultants. At the reception, they discuss such issues as reimbursement of transport expenses, therapeutic measures, nursing allowance, disability certificate, home schooling, and many others.
Psychological Support
The hospital has a specially trained oncopsychologist, who conducts individual sessions. Patients most often turn to the psychologist with requests to accept the diagnosis at the initial stage of treatment, family relationships and cooperation within the family, the age needs of the child and the creation of a favorable psychological environment.
Other issues that are important to bring to the discussion include relationships with siblings, new principles of upbringing, and organization of daily routine.
For contacts with a psychologist, please contact the nursing staff.
Kindergarten, play area and family recreation room
The hospital has a kindergarten for our little patients. The children play, make handicrafts and do many other things with the kindergarten teacher Ms. Walter. In the afternoon you can come to the kindergarten with your child on your own, just remember to put all the games in place.
In the patio you can use the computer and TV for free, to which you can connect the game console. There is also free access to the Internet via wireless connection.
Patients and their parents can use the family lounge near the department all day long. Please don't leave a mess and hand over the keys to the room on time so that other children can play in the room.
School
In our hospital, children are not only treated, but also studied. Specially trained teachers work at the school on weekdays from 8.00 to 12.00, and on Tuesdays and Thursdays also from 14.00 to 15.30.
Depending on medical conditions, junior school children have up to 10 lessons per week, with special attention to subjects such as German, world and mathematics. Junior school children additionally study foreign language and science subjects. 
We want our patients to keep up with the children in a regular school and can easily adjust to the current plan of their class. Parents aren't allowed in the school, because children need to keep a close eye on the progress of the lesson, and we want to create the most adequate learning atmosphere in the school.
Physiotherapy in a playful way
Children perform physiotherapy in special rooms from Monday to Tuesday from 8.00 to 15.30 and on Saturdays from 9.00 to 12.00. It is possible to exercise alone or in a group, and our specialists are especially attentive to ensure that all patients enjoy the exercise.
Exercise sessions are extremely beneficial for symptom relief during the often difficult course of treatment. The hospital also offers respiratory therapy, electrotherapy and various massages. Physiotherapists will be happy to show you special exercises that can be easily performed with your child at home.
Extra offers
Music Therapy
Clown Reception Hours
Art therapy / sculpture class
Ergotherapy
Drawing/handicraft/ pottery workshop
Events from charitable foundations
Home care
During breaks between treatments, you can stay at home if the physical and emotional condition of the child allows it. In this case, parents need to minimize the risk of infection from the outside environment. Particular attention should be paid to the following points:
There should be no earth in flower pots in the apartment (it's recommended to transplant plants into granules).
The child isn't allowed to play with pets.
Large crowds of people should be avoided (for example, in stores, cinemas and concerts).
Instead of public transport, move only by private car or cab.
Vegetables and fruits should be thoroughly washed and peeled.
If your white blood cell count is below 1.0, you should follow special dietary recommendations.
---
---
Do you need more information about Helios Hospitals or do you want to schedule your treatment?