Dr. med. Barbara Strey
Head of Gastroenterology at Helios Hospital Duisburg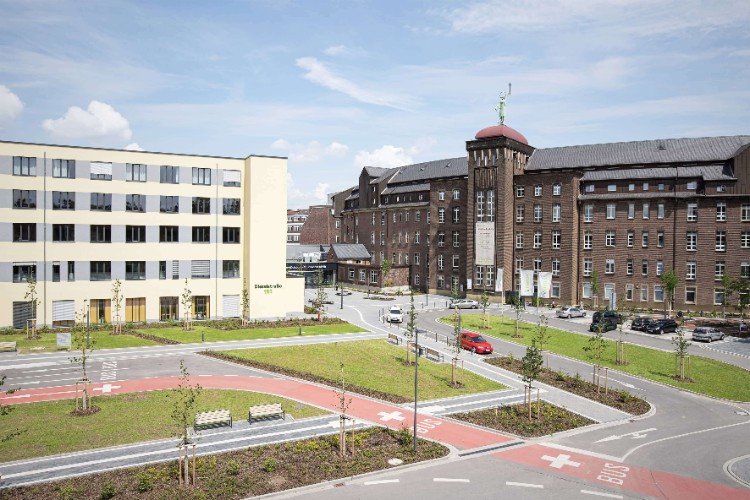 Helios Hospital Duisburg
Specialist fields (in extracts)
Gastroenterology:
Diseases of the stomach, esophagus, intestines
Diseases of the pancreas
Biliary tract and gallbladder disorders
Tumor diseases of the gastrointestinal tract (in cooperation with surgery and oncology)
Colon Cancer Center (interdisciplinary tumor therapy)
Chronic inflammatory bowel disease
Hepatology:
Diseases of the liver (hepatitis, autoimmune diseases, cirrhosis, liver cancer)
TIPS facility (in collaboration with interventional radiology)
Tumor diseases of the liver (in cooperation with surgery and oncology)
Local treatment methods for liver cancer (microwave ablation, transarterial chemoembolization (TACE) in collaboration with interventional radiology)
Interventional endoscopy:
Gastroscopy, colonoscopy with all interventional therapy procedures incl. endoscopic voille wall resection (FTRD)
Viodeocapsular endoscopy of small intestine and large intestine
Radiofrequency ablation (RFA) of esophagus (Barrett's esophagus), stomach (GAVE syndrome), biliary tract (cholangiocarcinoma)
ERCP with cholangioscopy (Spyglass) and EHL
Endosonography upper and lower GI tract with interventional therapy methods incl. Pseudocyst drainage, lumen aposing metal stents (LAMS), necrosectomies
Endoscopic vacuum therapy in inflammatory processes
Curriculum vitae (in extracts)
| | |
| --- | --- |
| 1983-1990 | University of Essen, Study of Human Medicine |
| 1991 | Medical license |
| 1995 | Doctorate at the University of Essen, Title: "Epidemiology and Clinic of M. Crohn in the Western Ruhr Area", Prof. Dr. H. Goebell |
| 1997 | Recognition as a specialist in internal medicine |
| 2001 | Recognition in Gastroenterology |
| 1990-1997 | Assistant Physician St. Josef-Hospital Oberhausen, Internal Medicine, Chief Physician Prof. Dr. G. J. Kremer |
| 1997-2001 | Specialist at St. Josef-Hospital Oberhausen, Internal Medicine, Chief Physician Prof. Dr. C. U. Niederau |
| 2001-2004 | Senior physician Philippustift, Kath. Kliniken Essen Nord-West, Medizinische Klinik I für Hämatologie und internistische Onkologie, Gastroenterologie, Chefarzt PD Dr. R. Kath |
| 2005-2011 | Senior Physician Alfried Krupp Krankenhaus Essen Steele, Department of Internal Medicine IV, Chief Physician Prof. Dr. D. Ameis |
| 2012-2020 | Chief Physician Sana Kliniken Duisburg, Head of Medical Clinic II-Gastroenterology, Hepatology and Interventional Endoscopy |
| Since 01.08.2020 | Head of Gastroenterology Department at Helios Hospital Duisburg |
Certification
DGVS-Certificate "Oncological Gastroenterology" (2011)
DGVS certificate" Hepatology " (2011)
DGFS certificate" Chronic Inflammatory bowel Diseases " (2017)
DGVS Certificate "Neurogastroenterology and Mobility" (2019)
Memberships
German Society for Digestive and Metabolic Diseases (DGVS)

German Society for Endoscopy and Imaging Techniques (DGE-BV)

Gastro league

Working group of leading gastroenterological clinicians e.V. (ALGK)

Association of German Internists (BDI)

Competence Network for Bowel Diseases

German continence society

Duisburg against colon cancer e.V.
Send Request
We speak german, english, russian, arabic and french